Newsletter 1st & 2nd QTR 2017
---
Transition -
a process or period in which something undergoes a change and passes from one state, stage, form, or activity to another
Transition is the key word to describe the space we've occupied since our last newsletter. We are excited for what God has planned but must admit that the changes have almost simultaneously been often difficult and sometimes a blessing. It has been challenging to say the least.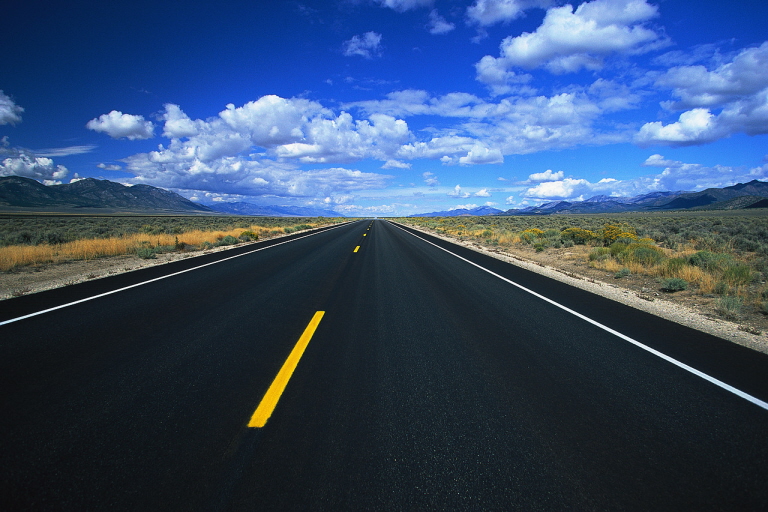 Moving the headquarters for a 501-C3 ministry from one state to another comes with almost as many miles of paperwork as pavement. We did as much as we possibly could before leaving Oklahoma but much of it had to wait until we were actually here in Pennsylvania.

It all started with registering the ministry with PA as a 501-C3 and getting permission to operate in PA as a religious organization. Somehow Pennsylvania mailed a portion of the necessary documentation to the correct address and a portion of it to a neighbor (who promptly sent it back). After waiting several weeks for the certificate we called and found the problem, a week later we received the rest of what we needed and was able to proceed with the rest of the paperwork.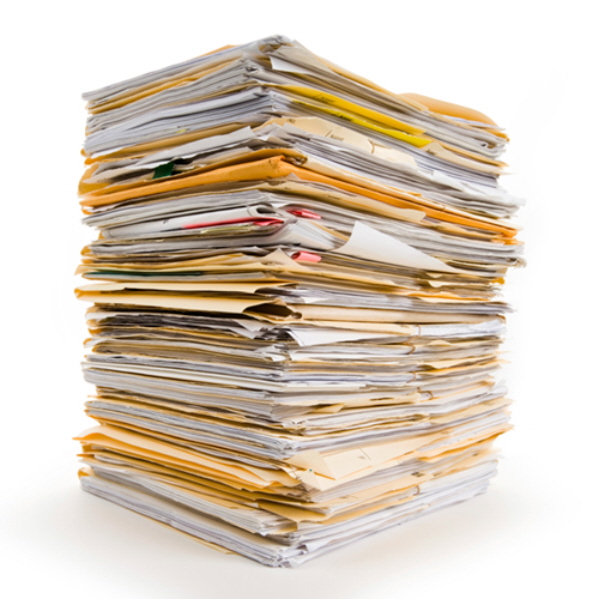 The next step was to register with Pennsylvania as an employer and set up PA income tax, Local wage taxes, and PA Unemployment Compensation. One of the big challenges of this for me was that PA requires everything to be done on-line via multiple websites and 3rd party tax services. I'm a person who likes a good old pen and paper trail, so I found it a little frustrating especially when every website worked differently and some seemed very counterintuitive.

We thought it was unusual for us to have to participate in Unemployment as a religious organization because no other state that we had lived in required us to do that. But after several conversations with the PAUC we were assured that we were required to because we weren't a church. However at the end of 2016 we were told that the information we had been previously given was incorrect, as a religious organization we are exempt, and that we needed to go back and amend all of our reports and request refunds for the funds we had submitted to the PAUC. LOL, Who else here likes doing everything twice when you didn't need to do it at all? But Praise God He carried us through it all and it's done now!

Banking proved to be a little hassle too, not here in PA but finalizing things with Oklahoma. The bank in Oklahoma failed to send us end of year reports for the ministry and our personal accounts. When we didn't receive anything from them by the middle of February we contacted them to find out why. It seems that they had no record of us making a change of address for the accounts even though they had sent funds to our new address in PA when we closed the accounts. Apparently someone dropped the ball when it came to following through with the paperwork.

Fortunately they had record of all that took place and was able to get it all figured out. But according to their policy since 90 days had passed since we closed the accounts, they had to send us a test mailing to make sure the address was legitimate; and it could take up to 30 days to complete the process. WHAT!! After escalating to the bank manager I was able to convince her that it was the bank's mistake, we were able to have the documents FAXed to the ministry email address which they had on record.

I believe we have all the red tape covered now, I am so happy. This kind of stuff makes it seem like it's taking forever to settle in and develop a routine.

---
Building the Studio and Office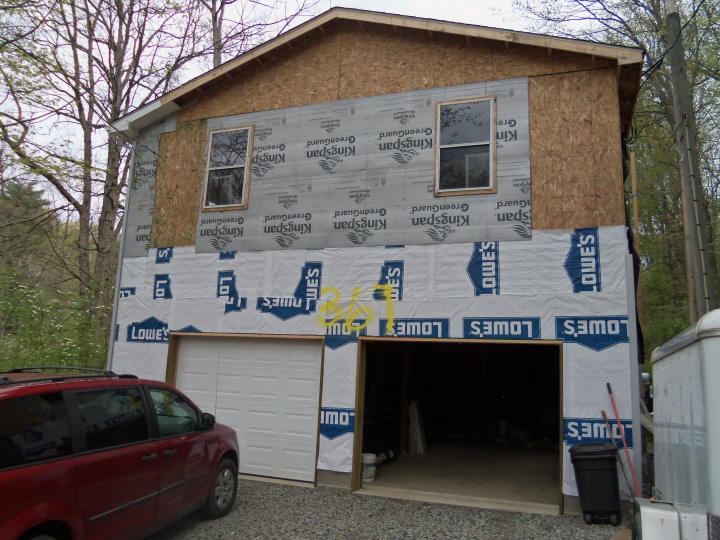 The building project is coming along although it is taking much longer than we anticipated. We had hoped to have everything built and at least the office functional by the end of Summer 2016, however due to multiple delays caused by either lack of helpers, weather, or in some cases injuries the project is still not complete. But praise God we were able to get all the framing done, windows and doors installed, and the roof completed including shingles before winter. What a blessing, and again we want to extend a big THANK YOU to all who helped.

Since then we have been able to install the electric service and have it inspected and approved. We have installed siding, soffit & fascia, and gutters on one side and siding about 1/3 of the way on a second wall. Keep in mind this is a 2 story building so it's a lot of siding. We've installed all the stairs and railing inside and out. We've installed the smoke detectors and other safety equipment. With just a couple minor things we hope to have another structural and safety inspection soon. (Update- Since writing this newsletter Inspection is done and passed)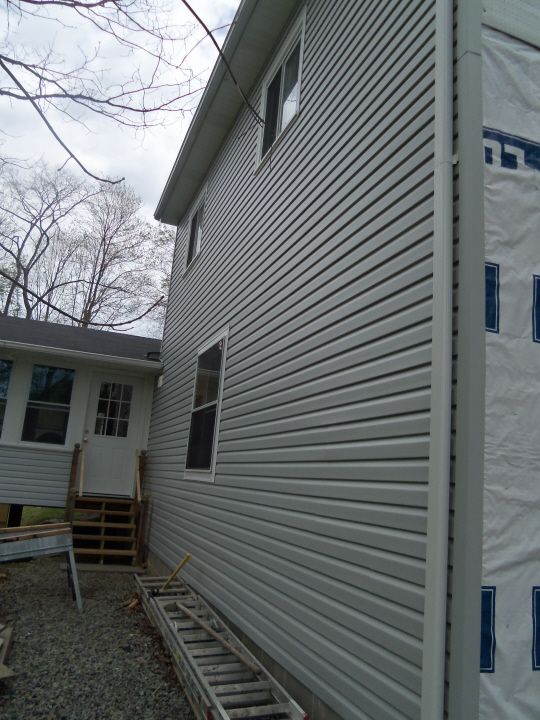 One of the injury holdups was my back. While digging a ditch for the electric service I slipped and fell into the ditch landing hard on my tailbone. I woke up the next day with extreme lower back pain that was radiating down my left leg. That was in the middle of December and from there it has gotten worse. Pins and needles in the left buttocks, leg, and foot with burning sensation and sharp pains in the back (Sciatica). X-rays Have only revealed old injuries that are very possibly aggravating the current problem.

I have been seeing a chiropractor since it happened and going through a series of decompression treatments. It seemed like it was helping for a while though very slowly. Then about two weeks ago for no reason it got terribly worse. I am now scheduled for an MRI that will hopefully reveal what the problem actually is and my primary care physician can suggest the next steps to take. Please pray that I can get back to normal and not have this pain any longer, at times it completely sidelines me and I'm unable to do anything (sit, stand, walk, even laying is uncomfortable).

We've been invited by several Native American ministries to participate in events they are having around the country. Because of my back I'm missing the first one April 20 - 24, 2017 in Florida. Lord we really need to get things together with my health and the office construction before anymore events have to be passed by this summer.
---
Big Trees Are Expensive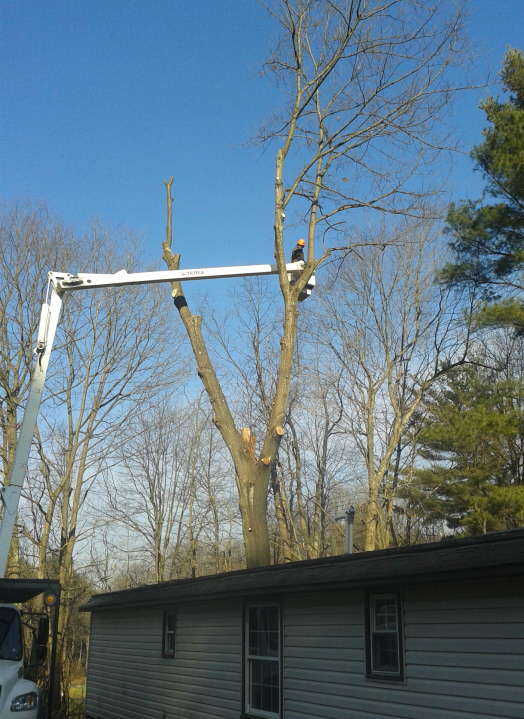 Another stick in the spokes of progress has been an almost 100 foot Oak Tree that was struck by lightning a while back and decided to start leaning toward the mobile home on our property (where Shawn lives next door). We had it inspected by several tree people who all confirmed that it was a danger. So much so that one man said he wouldn't allow anyone in the house if he were us.
At the same time a large Cherry Tree was uprooted and fell against a Maple tree at the home we live in and where we're building the office/studio. The Maple was the only thing keeping it from falling on the house. It wouldn't have caused the devastation that the oak tree would have but I'm sure it would have caused several thousand dollars in damage.

We were told by several people that the oak tree alone would probably cost over $5,000 to have removed. But because God is good and it was February the Lord lead us to a man who was willing to remove them both and the Maple (It was damaged when the Cherry fell against it) for $4,500. We had to do all the clean up but it was worth it.
Unfortunately the $1,300 for the Cherry and Maple had to come from the building project (the building project funds came from the sale of our home in Oklahoma and are not ministry funds. Though we will use the building for Ministry there are no ministry funds being spent on it). So we are short on that. So if you or anyone you know would like to donate fiberglass Insulation (R-13 15in. & 23in; R-19 23in.), 1/2 in. drywall, or 2X4s, or the funds to buy them with it would be a great help.
---
Looking Forward
Looking back over this newsletter I realize parts of it seem rather depressing and discouraging especially when I look at it with natural eyes. Yet I can't deny the excitement that continues to rise up inside me knowing that God has a plan, and that He orders our steps. He purposed us to be here at this time and everything that is happening whether viewed as good or bad right now is a part of His plan and no surprise to Him. The relationships that are being dissolved and the new ones being formed are all a part of His plan as we move into this next chapter in our journey with our God.

I'm excited to see that many of the Native ministries that we have worked with for years continue to include us in their plans and want our participation. And that new ministries like "Indigenous Pathways" are investing in building our relationship with them. They recently sent a MAC computer and all the software to us so that we could use it to build a website for them. They want to use MAC because it is what all of their people have been trained on and they want us to be able to pass our knowledge and skills on to the next generation of indigenous ministers.

Even though we don't have our office yet we have still set up areas where we can do some things. Our house has an open floor plan so we have scrunched some of our living room into the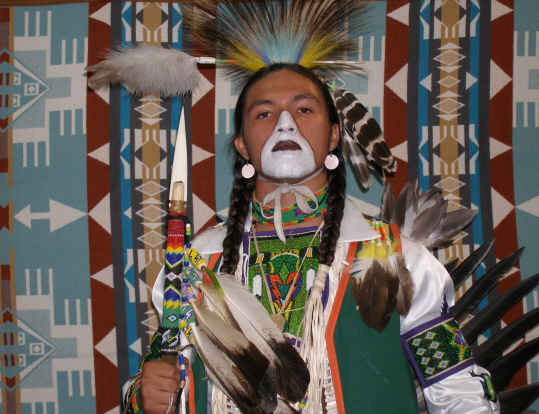 dining room and stored the rest. Then we sectioned off part of the living room and set up an 8 foot table to hold 3 computers so we can keep up with the ministry book work, establish a line of communication, and keep up with the never ending website maintenance for the ministries we help. In what was supposed to be a guest bedroom we have set up the Indigenous Pathways computer and are storing some dining room and living room furniture. However, we still don't have a place to set up the video editing booth. Everything feels a bit cramped so as you can imagine we can't wait to get the office done and finally be able to organize everything.

I guess I just wanted you to know that regardless of all the setbacks God is still moving forward and we are moving with Him. We may not be exactly where we'd like to be, but we are far beyond where we started out. God has a plan and purpose for every Native American ever born, and He has one for us, and He has one for you. Hallelujah! Keep praying, He answers!
---
Family!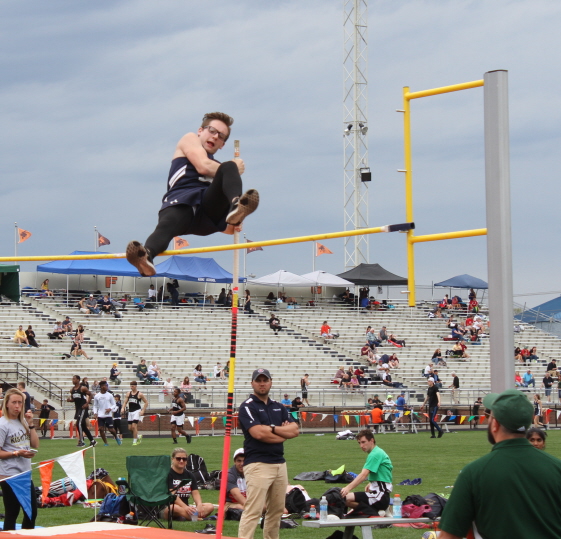 We are so thrilled that we have the honor of being near family after so many years of being separated. Our greatest joy is being here for our grandson's senior year of school. We returned to PA just two weeks before his 17th birthday, so after 17 years of being absentee grandparents it's been so awesome to be around for his everyday life. We are so proud of the young man he has become.

Recently he has been in track and field (Soccer season is over for this year), he runs the 300 and 110 meter hurdles, and pole vaulting. He loves staying active and it is helping him to be fit for his journey after high school. Tyler has joined the Air Force on the early entry program and will be heading out July 3, 2017 for his basic training in Texas.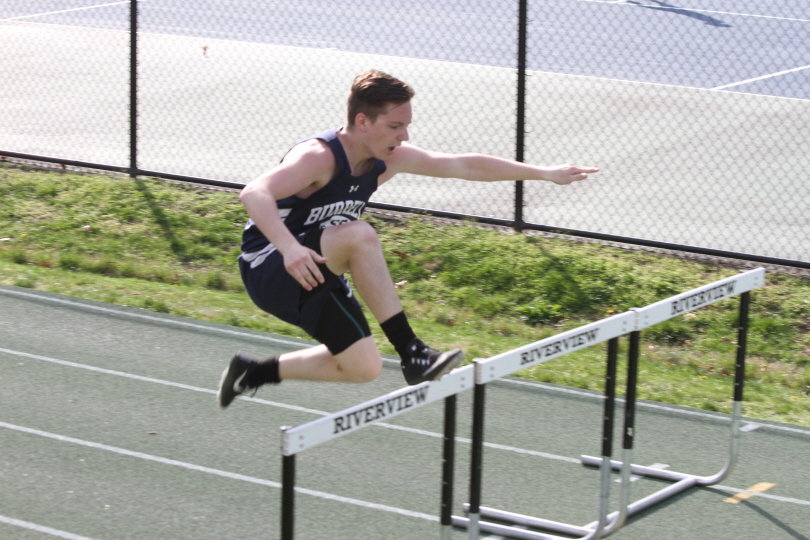 After basic graduation he will head to Washington state, where he will begin his SERE instructor training. SERE stands for Survival, Evasion, Resistance and Escape. His job choice means he had to join for 6 years, as a SERE Instructor he will train others in surviving, evading, resisting and escaping in the event they fall behind enemy lines. We have watched some video online about this training, it looks extremely difficult, but Tyler believes he is up for the challenge. Lots of prayers for his success would be appreciated.

It has also been a joy to have our adult sons in our life again as well. They have helped Howard with the building project when their schedule has allowed them to. It has been especially nice to have them at our table for Holiday and Sunday diners. That is one of those little things in life that can mean so much. Having them in our life on a consistent basis is Truly a long missed Treasure.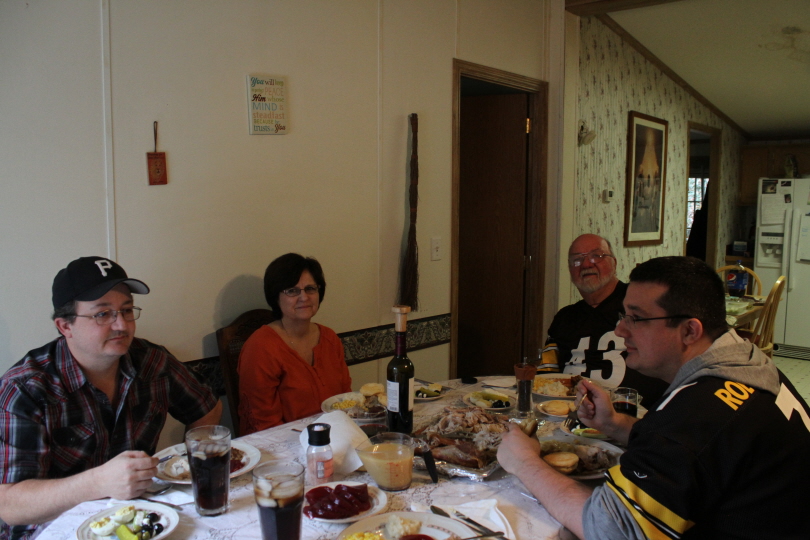 Thanksgiving Diner 2016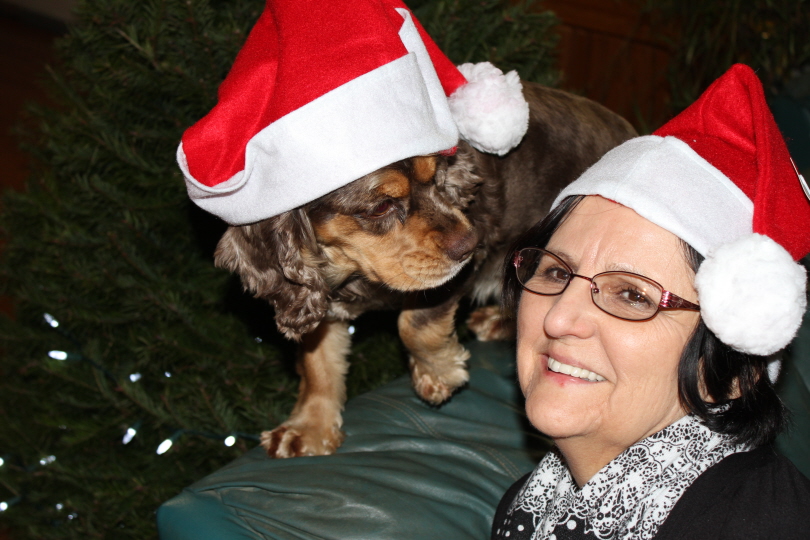 Even the Grand-dog likes Grandma's cooking!
---
Personal level (a word from Char)
On a personal level the move back to PA has been by far the hardest transition for us, all the moves on the field were challenging, but this has been more than challenging. Trying to find our place in ministry here locally, church, and just life in general has been difficult. We have been gone for so long people don't think about you as being a part of anything here, even family isn't used to us being around. The nieces and nephews who played a key role in our life are now grown, and have children of their own who (Their Children)don't really know us. We are thankful to our A-team who have included us in their gathering. We are ever grateful to those who are a part, who love us, praying us through this transition and just allowing us to be a part.
---
"Arise, shine: for your light has come, and the glory of the Lord has risen upon you. For behold, darkness will cover the earth the earth and deep darkness the peoples; But the Lord will rise upon you and His glory will appear upon you"
---
Support Agape Lane Ministry through Good Search
We have a new way for you to help support our ministry every day just by searching and shopping online or dining out at your favorite restaurants. We've registered Agape Lane Ministry with GoodSearch.com, a company that helps non-profits like ours raise funds through the everyday actions of our supporters. Every time you use a Good Search service, they donate to the non-profit you've designated.
You can start using it now. Just go to www.goodsearch.com and click on the link in small letters under the search text bar that says "Choose your cause" That will open a small search window where you will type in "Agape Lane Ministry" You will be transported to another window where you can register as a supporter of our ministry/cause. Then anytime you use Good Search they will donate to our ministry.
We'd like to begin building our presence on GoodSearch.com. Please join our community on GoodSearch.com and help us raise money for our mission. Get started by clicking the
"Become a Supporter" button on our profile page here: http://www.goodsearch.com/nonprofit/agape-lane-ministry.aspx
Please join us and invite a friend.
---
And NOW through Amazon Smile:
Just wanted to let you know there is another easy way that you can support Agape Lane ministry just doing the things you normally do. When you make purchases at Amazon through the Amazon Smile project. There is no extra charge to you but Amazon will donate ½ % of your purchase price to our ministry. Just click on the link below to register us as the ministry you want to support.
http://smile.amazon.com/ch/43-1957219
You can also just go to the Amazon Smile website at http://smile.amazon.com then in the search box under the "Select a Charity" area type "Agape Lane Ministry" into the search box and click the search button, then choose our ministry in Lawton, Oklahoma as your charity. That's all there is to it. As long as your computer is set up to accept cookies every time you go to Amazon Smile it will automatically apply the donation to our account. If your computer doesn't except cookies then you will need to enter the information each time you shop.
Thanks so much,
Howard & Charlyne
---
Lean on, trust in, and be confident in the Lord with all your heart and mind
and do not rely on your own insight or understanding. Proverbs 3:5