Newsletter 1st QTR 2015
---
Hog Creek Comes Alive!
The typically quiet Oklahoma Indian Missionary Conference's Southwest District campground, Hog Creek Camp, suddenly came alive with the arrival of close to 50 college students and staff.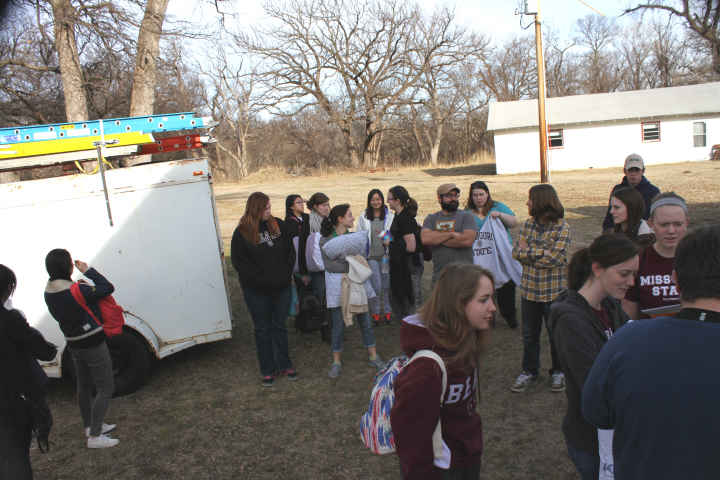 For the third year in a row Christian Campus House Ministry from Missouri has come to serve the Lord by serving the Native American people in the southwest Oklahoma communities side by side with Agape Lane Ministry. Their energy and excitement is contagious! We are so blessed to host them and have them work with us for the week.

Most of the work they did this year was centered around the camp itself because it will be the location for the Indian Missionary Conference's Annual Conference this year. The Annual Conference is like a huge Camp/Tent Revival Meeting combined with appointments, confirmation, and ordinations by the O.I.M.C.. Indian Mission churches from all over Oklahoma, Kansas, and Missouri will attend the week-long event.
Each of the Southwest District churches has a cabin at the camp that serves as a kitchen and dining hall. They take turns preparing and serving meals to all of those who are in attendance at the conferences and other meetings held at the camp.
The team jumped right in and helped the churches with remodeling and renovation projects. They also helped the district youth by turning one of the old cabins into a youth building complete with a concession stand. The youth use the concession stand to raise funds during the events for their Youth programs.
| | |
| --- | --- |
| Charlyne Painted Too (she even got some on the building) | |

Other projects included drywall, paint and concrete prep for the new Bishop's cabin. Then they cleared out a large storage building and prepared it to have a new concrete floor installed. They also relocated several pieces of playground equipment so that it was close to the children's ministry cabin where it would get some use.

The camp took on a new look and the churches were inspired by what a difference this team was making. The churches are picking up where the team left off and the camp is looking better than it ever has in the 16 or so years that we've been here. What a blessing!
Besides the work at the camp there were a couple teams that went out to help at a couple of the churches. They worked on painting, plastering, plumbing, and a multitude of other needs the churches had.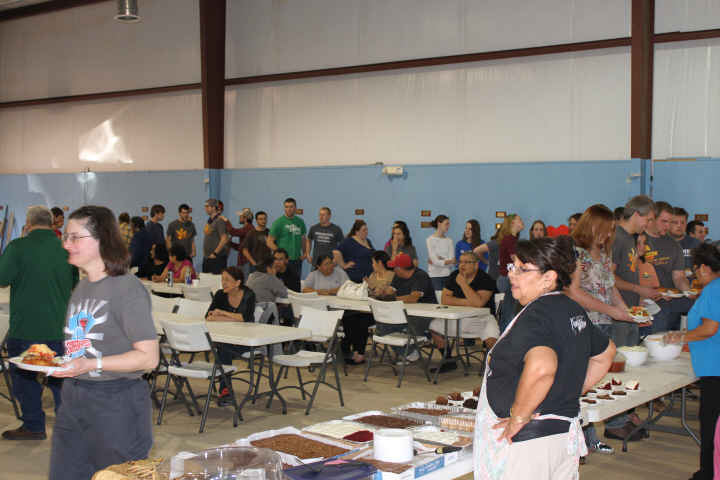 On Wednesday evening the churches blessed the team with an Indian Taco diner. It was an awesome night filled with food, fellowship, and laughter. Several Christian leaders from the various Tribes shared a little about their culture and life. One woman shared a story about "Sendeh" (pronounced Sane Day), The Trickster, while the children helped her by acting out the story. It was a story commonly told to the children. The moral of the story was, "Don't do something you know you shouldn't, even if someone tells you it's okay."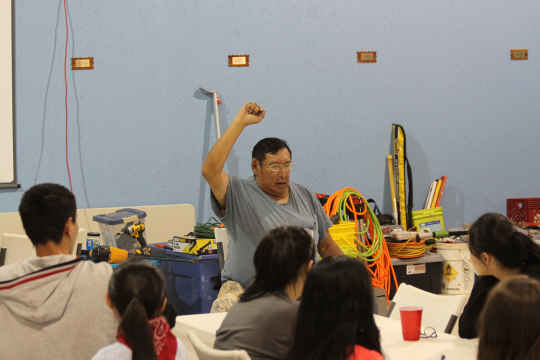 All in All, what a great week! Lots of work got done; many lives were touched on both sides of the river; and we all got to strengthen old relationships and initiate new ones. The people of the O.I.M.C. were blessed, the Christian Campus House team was blessed, and Howard & Charlyne were blessed.
We all can't wait to do it again next year!
Check this slideshow and short video from this outreach...
---
Mission Trip Visitor Highlight
This was the third year the team has come to work in Oklahoma and the 3rd year Mamma Joyce, as the young folks call her, was the cook. The team is always very hospitable and invite Howard and I to join them for supper and Joyce and the helpers do a great job preparing food for all. There is always plenty of food and variety so you are sure to find something you love.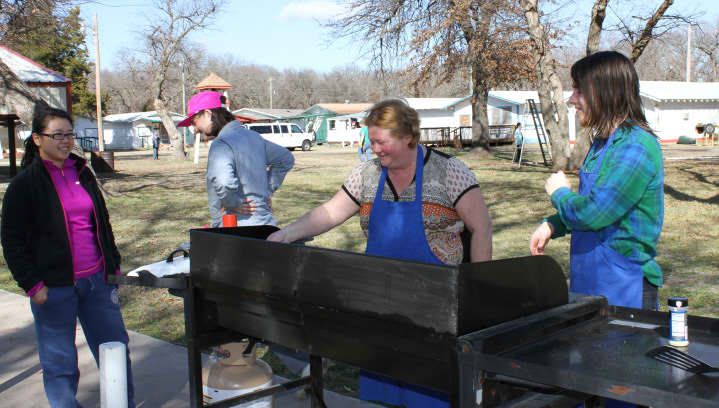 Joyce has a servants heart above and beyond most. But what I would like to highlight about Joyce this year is her heart to prayer. The first night they arrived she questioned us about a young widow with two small children she had met last year. She told us the Lord had given her a burden for her and she prayed for her all year. Her eyes filled with tears and I know that she had kept this young women close to her heart faithfully through prayer.

That impressed me more than my words can express. I could not wait to face book message this young mom to encourage her by letting her know that Joyce had prayed for her and her girls all year long. She was blessed.
So I want to highlight Joyce because I believe it is a big shout out from our Father saying, "Thank you my daughter, well done!"

---
2 Timothy 2:1-2 (NASB)

You therefore, my son, be strong in the grace that is in Christ Jesus. The things which you have heard from me in the presence of many witnesses, entrust these to faithful men who will be able to teach others also.
---
Please Pray with us:
In June, 8th thru the 14th, we have a mission team from OK city coming to work with Cedar Creek church. They were here about 3 or 4 years ago and asked to work with Cedar Creek again. Last time they did several work projects around the church, this year they will be doing a V.B.S..


Also in June 26th thru the 28th Jonathan Maracle will be having his second "Sing to the Mountains" Christian Native Music Conference in North Carolina. The first one was here in Oklahoma and we helped organize some of it. This year we've been invited to be the event photographer and videographer.
While there we hope to conduct some interviews with artists and conference attendees in preparation for a possible future project documenting the history, reaction, and response to contextual worship and ministry amongst the indigenous people of North America. Pray for wisdom and finances to make it happen.
---
Support Agape Lane Ministry through Good Search
We have a new way for you to help support our ministry every day just by searching and shopping online or dining out at your favorite restaurants. We've registered Agape Lane Ministry with GoodSearch.com, a company that helps non-profits like ours raise funds through the everyday actions of our supporters. Every time you use a Good Search service, they donate to the non-profit you've designated.
You can start using it now. Just go to www.goodsearch.com and click on the link in small letters under the search text bar that says "Choose your cause" That will open a small search window where you will type in "Agape Lane Ministry" You will be transported to another window where you can register as a supporter of our ministry/cause. Then anytime you use Good Search they will donate to our ministry.
We'd like to begin building our presence on GoodSearch.com. Please join our community on GoodSearch.com and help us raise money for our mission. Get started by clicking the
"Become a Supporter" button on our profile page here: http://www.goodsearch.com/nonprofit/agape-lane-ministry.aspx
Please join us and invite a friend.
And NOW through Amazon Smile:
Just wanted to let you know there is another easy way that you can support Agape Lane ministry just doing the things you normally do. When you make purchases at Amazon through the Amazon Smile project. There is no extra charge to you but Amazon will donate ½ % of your purchase price to our ministry. Just click on the link below to register us as the ministry you want to support.
http://smile.amazon.com/ch/43-1957219
You can also just go to the Amazon Smile website at http://smile.amazon.com then in the search box under the "Select a Charity" area type "Agape Lane Ministry" into the search box and click the search button, then choose our ministry in Lawton, Oklahoma as your charity. That's all there is to it. As long as your computer is set up to accept cookies every time you go to Amazon Smile it will automatically apply the donation to our account. If your computer doesn't except cookies then you will need to enter the information each time you shop.
Thanks so much,
Howard & Charlyne
---
Lean on, trust in, and be confident in the Lord with all your heart and mind
and do not rely on your own insight or understanding. Proverbs 3:5