Newsletter 1st QTR 2016
---
2016 Starts On A Sad Note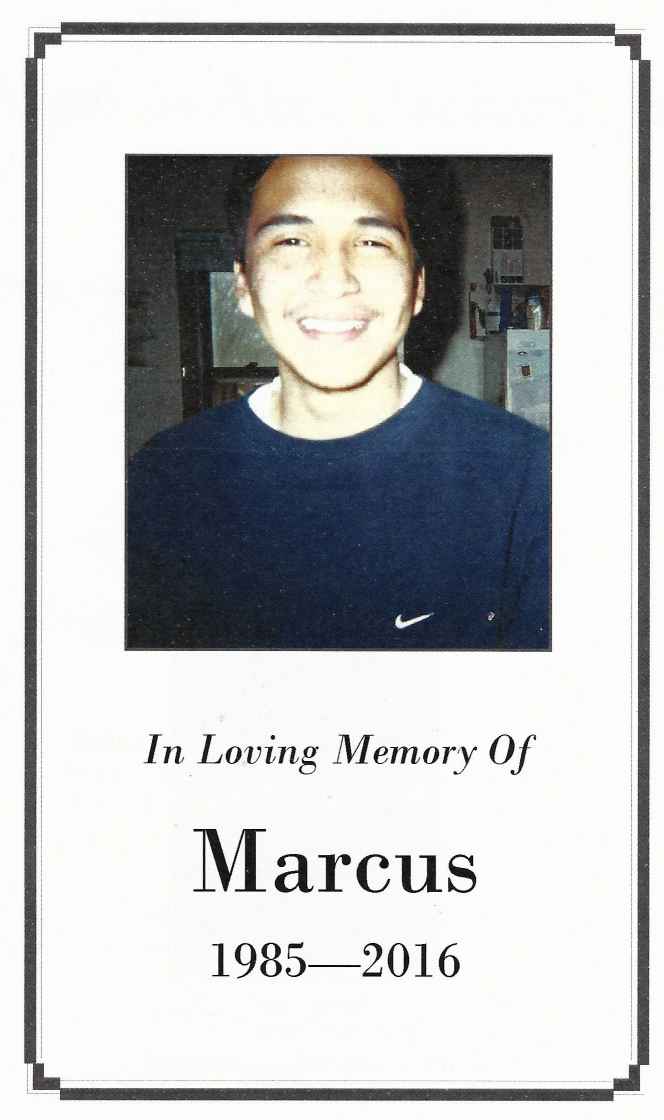 In January of this year a young man who we considered family took his own life while in a rehabilitation facility in South Dakota. Marcus, Lakota Sioux, from the Rosebud reservation called Charlyne and I Auntie and Uncle.

We first met him and his family in 1993 when we were living on the Rosebud reservation. There was a warning of a possible tornado and his mother, April, brought the whole family to the old BIA dining hall, renovated into a church, where we were now living. Because the old root cellar at one time was used as a community storm shelter. We were unaware that it had ever been used for this and knew that it was no longer in any condition to be used for anything. April and her family had just moved back to the reservation and didn't know it was no longer in use. Anyway, we all hunkered down together, spent a couple hours getting to know each other and became friends. Over the next few years our families became close, especially Charlyne and April.
Our relationship with the family has continued throughout the years even after we moved away from Rosebud and to Oklahoma. April, Marcus, and her youngest daughter Erin came and lived with us for a short time in Oklahoma. A few years later Marcus came to live with us and we got him enrolled in the Job Corp program here. When Marcus left here he went to Denver Colorado but eventually ended up back on the reservation. It seemed that things really started to go awry for Marcus after his mother passed away in 2008. Unfortunately the reservation has a way of swallowing you and dragging you down unless you are very strong and established in the Lord.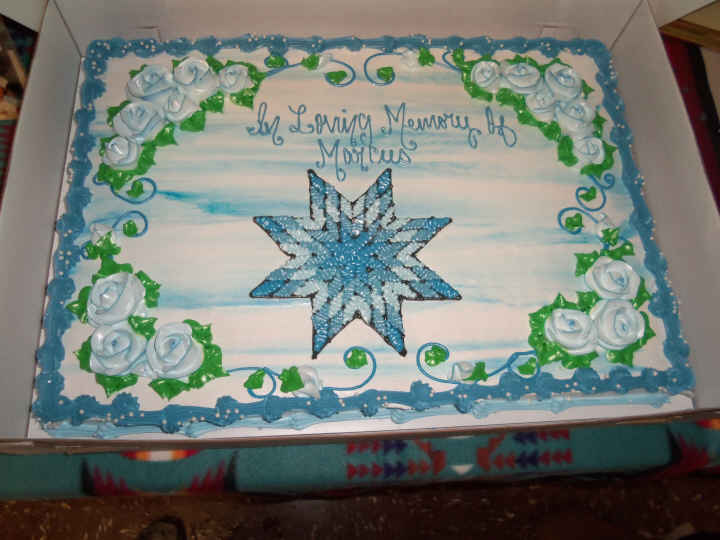 Marcus was a happy, caring, and pleasant child and young man to be around. We all believed that God truly had a calling on his life. He would go out of his way to help anyone in need. Even after his trouble with alcohol and eventual homelessness the stories continued at his wake from those who knew him as their protector, helper, and true friend. When I close my eyes and think of Marcus I envision his infectious smile and unquenchable desire to make you laugh.

Suicide rate among the young Native American people of the USA and Canada is alarming. In the United States, especially on reservations, it is more than 4 times the national average. It is Lakota tradition that the pallbearers and family of the deceased fill the grave in by hand with shovels. As I participated in this event I looked around only to realize that most of the hands holding shovels were elders, like me. Tears came to my eyes while my heart ached as I thought, "How wrong it was for the old men to be burying the young men." Marcus' birthday was the day after his funeral, he would have been 31. Sharing my feelings with one of the elders afterwards he said, "Unfortunately that is becoming the norm in our communities these days." Lord we pray you save this generation!
---
Seeing Eye To Eye

Many of you remember that I (Howard) had a torn and detached retina in my right eye back in 2009. After that I had multiple surgeries to repair the retina and later to replace the lens that had been damaged by the surgery trauma. All of these surgeries have produced what they call trauma induced glaucoma.
Up until recently the doctor was able to control the glaucoma with eye drops that I take several times a day. About 5 months ago the drops had become less effective finally it progressed to the point where the doctor felt it necessary to do another surgery. After prayer we decided that this was the right thing to do.
I asked God for a miracle, something that the doctor could witness that would bring glory to His name. I was unprepared for what God would do…
On March 30th we went to the Surgery Center and they started the preparation process. The surgeon came in to talk to me prior to the surgery and after explaining exactly what he was going to do he asked if I would allow him to lay hands on me and pray! I said,"Of course, thank you." As he started to pray I felt the presence of God in the room, the doctor professed that God was the only Healer, and that he was only His tool. He asked God to guide his hands and to touch me with His healing touch. He asked for a quick and miraculous healing.
You may not agree, but to me that moment alone was a miracle. I have never had any person from the medical profession pray with me that way before and proclaim that God was the only true Healer. And I believe the miracle is on-going. Even though the surgery had nothing to do with my eyesight, one week later during a follow-up appointment I was able to read one size smaller print with the damaged eye than I have since my original surgery back in 2009. The doctors have told me that I will never regain full vision in that eye because the retina is scared, but God has the last say in all things. We will see what we will see (pun intended). I believe the doctor is going to witness a miracle…
---
Full Circle

Way back in 1992 while running a children's ministry out of our yard on property we were purchasing in Pennsylvania the vision for ministry with Native Americans was birthed with help from Pastor Randy Shreckengast, the late Richard Twiss, and the late Rev. Marrles Moore. Soon after that our family was living on the Rosebud Indian Reservation in South Dakota and living out the Gospel of Jesus Christ among Native Americans.

Over the years we have seen God make many changes to the ministry He called us to. Though He changes not, He is a God of change. So the ministry has been in a constant state of metamorphosis, changing with the needs of His plan. Sometimes it's been big changes, at other times just subtle almost unnoticeable changes. Sometimes painstakingly slow, and sometimes changing so quickly that it almost took our breath away, but God has had His hand on us all the way and at every moment supplying all we need to follow His purpose.
Over the last couple years we've been experiencing some of those slow, subtle changes that have led up to what is now a big, fast change that is in a way going to bring us full circle. We have some good news to share with you that was birthed out of a negative situation. Isn't that just like our God, making a silk purse out of a sow's ear?
Over the last several years due to a failing economy our support has slowly declined. We and our board have prayed and discussed and even implemented several hopeful solutions. However, we had still found it increasingly difficult to keep up with ministry and personal financial demands. After many months of prayer and discussion we decided to move our ministry office back to property that is already bought and paid for in Pennsylvania;
and that is the good news.
For about two years we have been experiencing the slow, subtle changes. Since we came to the conclusion that financially we needed to move our office God has confirmed His hand in it in many ways. He continues to increase in our hearts a burning desire to be close to friends and family; living out the gospel among them. And though we don't see the whole picture He is filling us with a thrilling anticipation for the next steps that He has planned for us and this ministry. And we have had Native organizations from PA, VA, and other eastern states find us and make contact with us. All the while; here locally in Oklahoma, it seems the opportunity for day to day types of ministry have diminished. We are still involved in local events and hosting mission teams.
After seventeen years of ministry in Oklahoma we have developed many strong relationships among the Native and Non-Native Communities. With that being said, although it may involve a little travel, local events and mission teams in Oklahoma are ministries that could be organized and completed while living in PA. And the things that we do nationally and internationally through Wiconi International and other ministries can be done from almost anywhere in the world. We have been in full time Native Christian ministry for more than 23 years now and have developed relationships and a reputation all over North America.
We want to be sure we communicate clearly to you that we are not closing the ministry, we are only relocating the office. It is our hope that you will rejoice with us and share the excitement in this next step and move of God. We don't know all that He has planned but we are excited to discover the next steps. Wiconi International and a new affiliate ministry, Indigenous Pathways, are cheering us on and hoping we will get settled and set up quickly in PA as they both have immediate needs that we can furnish.
---

---
Support Agape Lane Ministry through Good Search
We have a new way for you to help support our ministry every day just by searching and shopping online or dining out at your favorite restaurants. We've registered Agape Lane Ministry with GoodSearch.com, a company that helps non-profits like ours raise funds through the everyday actions of our supporters. Every time you use a Good Search service, they donate to the non-profit you've designated.
You can start using it now. Just go to www.goodsearch.com and click on the link in small letters under the search text bar that says "Choose your cause" That will open a small search window where you will type in "Agape Lane Ministry" You will be transported to another window where you can register as a supporter of our ministry/cause. Then anytime you use Good Search they will donate to our ministry.
We'd like to begin building our presence on GoodSearch.com. Please join our community on GoodSearch.com and help us raise money for our mission. Get started by clicking the
"Become a Supporter" button on our profile page here: http://www.goodsearch.com/nonprofit/agape-lane-ministry.aspx
Please join us and invite a friend.
---
And NOW through Amazon Smile:
Just wanted to let you know there is another easy way that you can support Agape Lane ministry just doing the things you normally do. When you make purchases at Amazon through the Amazon Smile project. There is no extra charge to you but Amazon will donate ½ % of your purchase price to our ministry. Just click on the link below to register us as the ministry you want to support.
http://smile.amazon.com/ch/43-1957219
You can also just go to the Amazon Smile website at http://smile.amazon.com then in the search box under the "Select a Charity" area type "Agape Lane Ministry" into the search box and click the search button, then choose our ministry in Lawton, Oklahoma as your charity. That's all there is to it. As long as your computer is set up to accept cookies every time you go to Amazon Smile it will automatically apply the donation to our account. If your computer doesn't except cookies then you will need to enter the information each time you shop.
Thanks so much,
Howard & Charlyne
---
Lean on, trust in, and be confident in the Lord with all your heart and mind
and do not rely on your own insight or understanding. Proverbs 3:5