Newsletter 2nd & 3rd QTR 2016
---
Summer Whirlwind...

So much has happened since our last newsletter. I am combining the 2nd and 3rd quarter newsletters because circumstances have me writing this in the late middle of the 3rd quarter and I anticipate our transition will keep me busy through the remainder of the year.

For those of you who may not have heard we have some good news to share with you that was birthed out of a negative situation. Isn't that just like our God, making a silk purse out of a sow's ear? Over the last several years due to a failing economy our support has slowly declined. We and our board have prayed and discussed and even implemented several hopeful solutions. However, we had still found it increasingly difficult to keep up with ministry and personal financial demands. After many months of prayer and discussion we decided to move our ministry office back to property that is already bought and paid for in Pennsylvania; and that is the good news, though some dynamics of the ministry will change, the mission God has called us to will continue. And though we don't see the whole picture, He has filled us with an excited anticipation for the next steps that He has planned for us and this ministry.

After seventeen years of ministry in Oklahoma we have developed many strong relationships among the Native and Non-Native Christian leaders and communities. With that being said, although it may involve a little travel, local events and mission teams are ministries that could be organized and completed while living in PA. And the things that we do nationally and internationally through Wiconi International and other ministries can be done from almost anywhere in the world. As a matter of fact as soon as we have our PA office operational we will start to serve a new ministry called Indigenous Pathways.

---
Rough Start

In March of this year we sold our house in Oklahoma, had the closing on the 29th of April, and were packed into the U-Haul and headed back to Pennsylvania in May. Closing day was a story in itself.

The day before the closing we rented the U-Haul and packed it full of our belongings with the awesome help from our friend Jack and a group of guys from Teen Challenge. We spent that night at another friend's house, Bill and Nancy. Closing day we went back to the house to pick up our van and the utility trailer it would be pulling. With the scheduled signing of the papers only 30 minutes away we arrived at the house to find it surrounded by police. Then we noticed that an SUV was in the back yard, up against the house, and sitting on top of the air conditioning unit.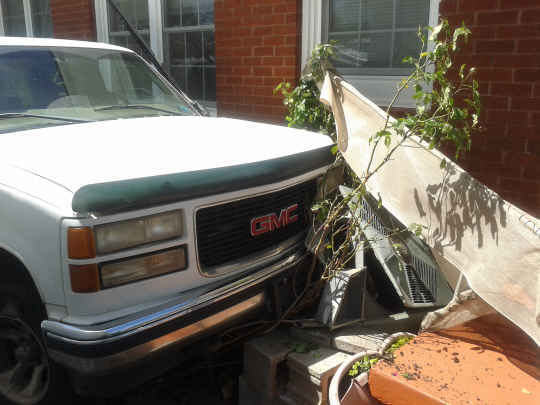 The police officer explained to us that a young man had stolen the SUV in Oklahoma City (80 miles away), was being chased through Lawton by the police, lost control of the vehicle running into our back yard, over a tree and bush, into the house and over the air unit. He then jumped out of the SUV and took off on foot. The police were still looking for him at that time.

We called our real estate agent who in turn called his lawyer who informed us that since papers had not yet been signed the house was still ours and we were still liable. Thanks to some quick work by our agent and the workers he employs we were able to get estimates within hours, make an agreement with the buyer that all the repairs would be done within the next couple weeks and still signed the closing within 4 hours of the original schedule. The agent even discounted his commission to help pay for the repairs so that we didn't lose as much on the sale of the house. Thank you Barry Ezerski, we can't commend you and your team enough. Of course we still had the house covered by insurance but because of some policy changes that had taken place March 1st (that I never read over because we had sold the place) we now had a $3,000 deductible. The total repairs came to a little over $3,600 and the insurance company has since compensated us accordingly.

The rest of the trip to PA went pretty smoothly except for some rainy weather. It took us several days to make the trip and we were glad to get here. With the help of our sons, grandson, relatives, and friends we unpacked the truck the following day. Because we don't have the office, storage, and studio for the ministry built yet, and our home is rather small, much of the ministry stuff is in a shed, a pop up gazebo, the utility trailer, and rented storage space. And that brings us to the next part of the story...
---
Build it and they will come...

With the proceeds from the sale of our house in Oklahoma I estimated that we could build a garage with a studio and office area on the second floor for the ministry like the one we had in Oklahoma as long as we could get the masonry work done for a good price and do all of the other work ourselves. We don't have enough for any interior finish but that can come in time. The building will be used to store personal and ministry equipment, house our office, and house the ministry video and audio studio. And who knows what else the Lord may do with it. The studio we built in OK ended up being used for everything I just mentioned and a place of Christian fellowship and ministry.

The process has been slower and more expensive here in PA than it was in Oklahoma beginning with the building permit. In Oklahoma I had to submit a hand drawing and $45 for the building permit. In Pennsylvania I had to submit 3 copies of a full set of plans/blueprints and $505 for the permit. I've noticed a lot more "Red Tape" in PA on our return than when we left 24 years ago. I guess with the events of 9/11 even getting a drivers license was more involved, even though they still had record of our license from 1992.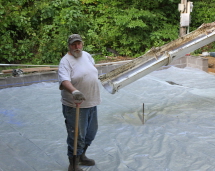 Thanks to a Christian man who has become a friend, Bo, we were able to get the foundation and concrete floor at a very reasonable price. He was a full 10% lower than any other estimates we got and did beautiful work. Thank you Bo.

Things have slowed again after the floor and foundation were complete. One of the teams that had wanted to help us with the construction or one reason or another has been unable to come invest their time on the project. So we waited hoping that we would have others step up, June, July, and August. Finally in the middle of August during prayer we felt the Lord instructing us to go ahead and order the lumber for the 1st of September and just have faith that He would send the helpers. We shared this with our Advocacy Team and others and asked people to pray.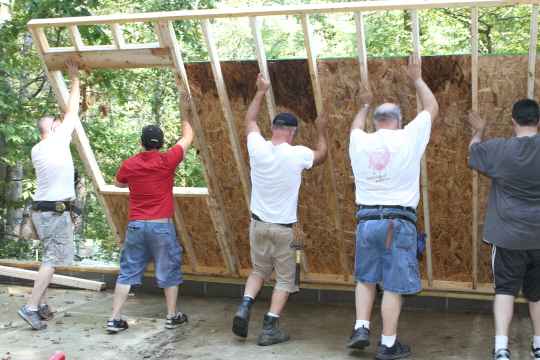 The leader of our A-Team, Paulette, took up the banner and ran with it. She contacted several of the people she has gone on mission trips with and had more response than we had in 3 months. Thank you Paulette! We've had 2 people come out on the 10th, and 3 on the 11th. Those volunteers along with me and my son Nathan we were able to get all the 1st floor walls standing, build and install the center beam, and half of the floor joists for the 2nd floor. A few days later a friend, Scott, and my son Shawn helped me install the rest of the floor joists and lift the plywood sheathing up on the 2nd level. Since then I have installed about half of the sheathing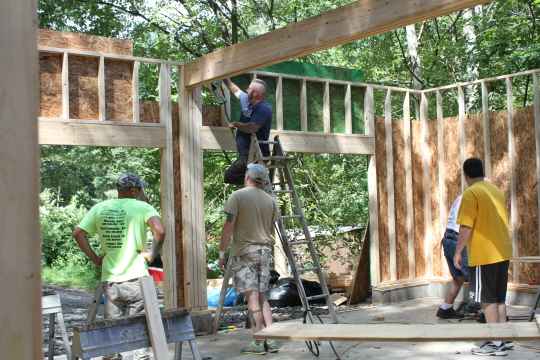 myself and then another friend of Paulette's, Rob, came and helped install the rest.

The following Thursday 9/22/16 Rob, our nephew Nick, friend Scott, and son Shawn helped to build 3 of the 2nd floor walls and lift the roof trusses from the delivery truck to the 2nd floor. That Saturday Nick, Steve, and Nathan all returned to help build the last wall on the 2nd floor and stand all the roof trusses in place. Then Sunday our sons Shawn and Nathan helped me install all the roof sheathing. And that is where we are as of this writing.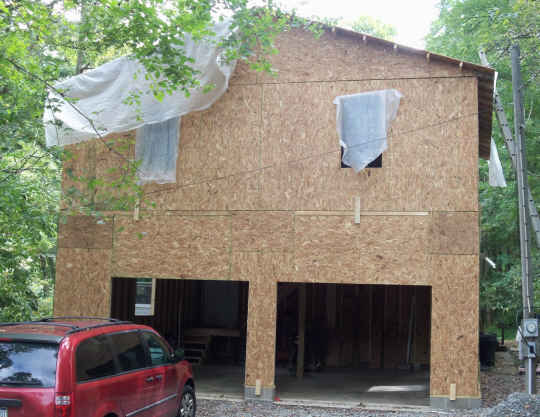 We have one person committed to come help on the 30th and a couple that have said they would try to come again but were unable to commit to a date. If you would like to come help we can use it and will appreciate it. Just call or text me at 580-574-0893. We need to have the framing done and have shingles on the roof by the end of this month if at all possible. After that we can begin to install the electric service. The rest can be done as time and help allows, but the framing, roof, windows and doors, and electric are needed right away.
---
Visitors in Oklahoma
It just so happen that as we were preparing our home to be loaded into the U-haul truck, we received a call from dear friends from Rosebud Reservation in South Dakota. Wastewin (Lakota "Good Woman") called to say she and a friend, as well as her son and Viola (her mom) were on their way to visit. They were just a few hours away and on their way to a Pow Wow in New Mexico. We were surprised but grateful they had been able to visit on their way down and not the way back, otherwise we would have missed them.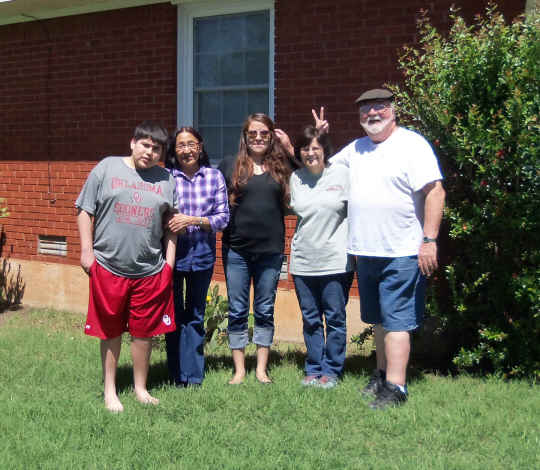 It was good to catch up with them and laugh as usual. Their sense of humor is good medicine for those of us who allow life stresses to overshadow the simple pleasure of enjoying one another's company. We were able to eat out with them, visit through the evening, throw a mattress on the floor for them each, and have breakfast with them before the Teen Challenge crew came to load the truck.

They have promised to come visit us here in PA. soon; along with several other folks they have a relationship with. Wastewin's life was deeply impacted by the ministry our home church provided there on the Rosebud reservation and that we were able to continue and expand on while we lived there. She now has a great plan for some mission work on Rosebud that she hopes would impact the lives of the young people like she was; and she would like us to be a part. Looking forward to what the Lord will do.
---
Home at Last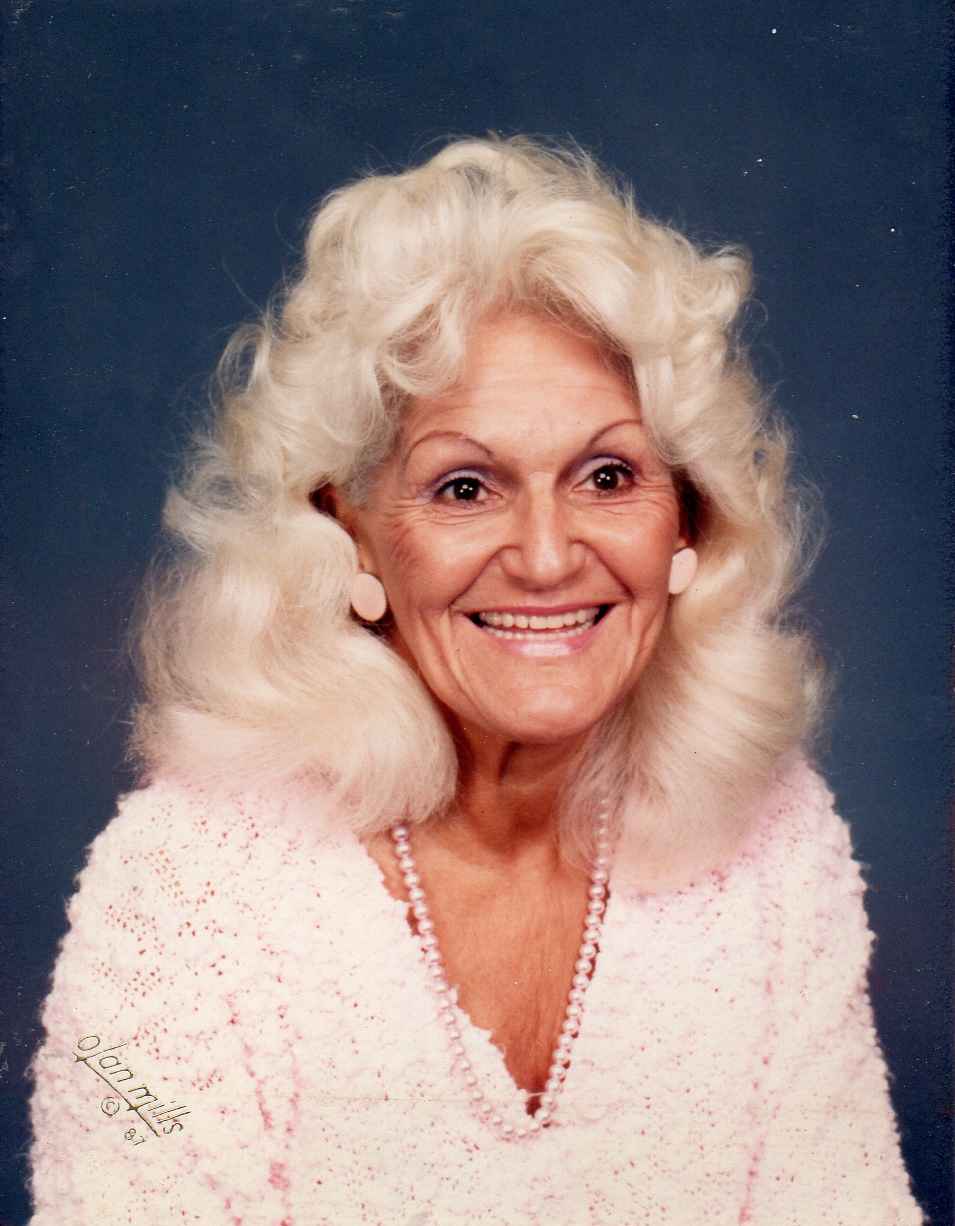 At the end of July Charlyne's mother made the trip to the other side. She just celebrated her 90th birthday in March and had been fighting several physical problems for the last couple years. I believe her body just couldn't continue the fight any more.

One of the blessings of moving back to PA was that we were much closer to Char's mother who lived in New Jersey. Charlyne had been able to go visit her three times since we returned in May. In fact, she was on her third visit when her mother passed. Charlyne had arrived at her mom's on July 19th to assist with some Doctor appointments, she told me on the phone what a great day they had visiting. Her mom seemed to be in better spirits, alert and happy the entire day. The next day she called me shortly after lunch time and said her mom had a stroke during lunch. She never fully recovered from the stroke and passed July 23, 2016 very peacefully. Char had had multiple talks with her mom about her transition from this world to her final home. Thank you Lord she is now in the presence of her savior!

Charlyne's mom, Janine, was French, a war bride from the 2nd world war. She came to America without being able to speak English but she quickly learned on her own. She was the daughter of a famous French sculptor and mother of 11 children, and grandmother of more than I can count. She will be remembered for her undying love and devotion for her children, her smile, quick witted conversation, and the ability to always make you feel important, loved and part of the family. She was taken away from France but France was still in her, she took it with her and deposited a little everywhere she went.
---
Bump in the Road
On the way home from New Jersey on the PA Turnpike near Philadelphia we were involved in an auto accident. The traffic was moving along at about 55 mph when suddenly it slowed tremendously. I was able to stop but the vehicle behind me was not. The young lady who was driving the car was so apologetic and brought to tears. I felt sorry for her and tried to encourage her that no one was hurt and cars can be fixed. She said that when she slammed on her brakes a drink spilled in her car, she looked down at it and when she looked back up she was entering the tailgate of our van.

Our van was drivable with most of the damage isolated to the tailgate. Our tail lights weren't even damaged. Her car had to be towed because of a busted radiator. My son Shawn and grandson Tyler were riding with me. (Charlyne was in her own car because she had been there previously for a visit) We left the accident thinking we were unharmed except that Shawn was complaining of a headache. We were told by the police officer to reserve judgment until the next day because often the adrenaline can mask injuries.

He was right. The next day we all woke up with stiff necks and headaches. We went to the hospital to get checked out. Tyler and I were told after a CT scan that we had minor whiplash and were given instructions and told to follow-up with our physician in a week. Shawn however was told he had severe whiplash, a concussion, and a possible crack in his spine near where it attached to his pelvis. Shawn is still being treated which includes therapy 3 times a week. He is suffering with neck and back pain accompanied by terrible headaches. Please pray for him.
---
Greatest Joy!
I have always declared that one of the greatest joys we can experience here on earth is grandkids. I find it hard to articulate the joy we have experienced since we have been in the area, watching our grandson as his journey in life takes him to adulthood. Tyler is 17 years old now.

His greatest joy is soccer, and he is co-caption of his Varsity Team, the Burrell Bucks. Although we have yet to completely understand the game itself, we try our best to attend his games as much as possible. It gives us such joy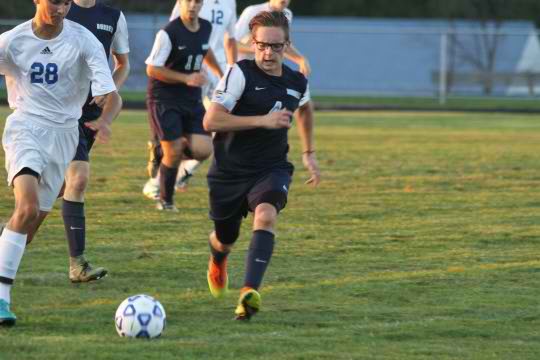 to watch Tyler play the game. He exhibits endurance, strength, integrity and good sportsmanship. No wonder they are all so skinny I never realized how much running is involved in soccer. I am truly blessed that after a game he is not embarrassed to come give his little sister, mom, dad, grandma and Papa a hug before riding the bus home with his team mates.
At this time Tyler plans to enter the Air Force after his 2017 graduation. So you can understand how precious the gift of this year is for us. The Lord hears the cry's of a grandma's and papa's heart.
---
Back to Normal or the New Normal
We can hardly wait to get this building project to the point where we can start utilizing it. There are several ministry projects that have been setting on the shelf waiting for a work area, and several new ones waiting to begin. We had originally hoped to have the office up and running by the middle or end of June but that has not happened. Now we are hoping to be at least semi operational by mid October.

I have several video projects that are waiting for completion for Wiconi International and Broken Walls and others. And we need to build completely new websites for Wiconi International and Indigenous Pathways. Besides these projects we've had to take a pass on a couple opportunities like"The ANNA Call" in Oklahoma because it is important to be here until the building project is weather tight.
(check it out here: http://www.thecall.com/event/anna-call)

It will be so good to be able to focus most of our attention back on ministry and see what new things God has in store for us.

Thanks you so much for your continued prayer and support of this ministry and us personally.

---
Support Agape Lane Ministry through Good Search
We have a new way for you to help support our ministry every day just by searching and shopping online or dining out at your favorite restaurants. We've registered Agape Lane Ministry with GoodSearch.com, a company that helps non-profits like ours raise funds through the everyday actions of our supporters. Every time you use a Good Search service, they donate to the non-profit you've designated.
You can start using it now. Just go to www.goodsearch.com and click on the link in small letters under the search text bar that says "Choose your cause" That will open a small search window where you will type in "Agape Lane Ministry" You will be transported to another window where you can register as a supporter of our ministry/cause. Then anytime you use Good Search they will donate to our ministry.
We'd like to begin building our presence on GoodSearch.com. Please join our community on GoodSearch.com and help us raise money for our mission. Get started by clicking the
"Become a Supporter" button on our profile page here: http://www.goodsearch.com/nonprofit/agape-lane-ministry.aspx
Please join us and invite a friend.
---
And NOW through Amazon Smile:
Just wanted to let you know there is another easy way that you can support Agape Lane ministry just doing the things you normally do. When you make purchases at Amazon through the Amazon Smile project. There is no extra charge to you but Amazon will donate ½ % of your purchase price to our ministry. Just click on the link below to register us as the ministry you want to support.
http://smile.amazon.com/ch/43-1957219
You can also just go to the Amazon Smile website at http://smile.amazon.com then in the search box under the "Select a Charity" area type "Agape Lane Ministry" into the search box and click the search button, then choose our ministry in Lawton, Oklahoma as your charity. That's all there is to it. As long as your computer is set up to accept cookies every time you go to Amazon Smile it will automatically apply the donation to our account. If your computer doesn't except cookies then you will need to enter the information each time you shop.
Thanks so much,
Howard & Charlyne
---
Lean on, trust in, and be confident in the Lord with all your heart and mind
and do not rely on your own insight or understanding. Proverbs 3:5