Newsletter 3rd QTR 2014
Power Team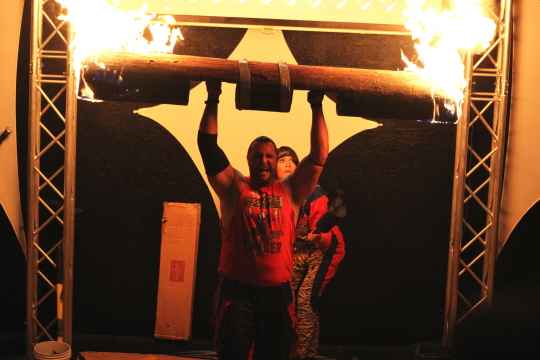 At the end of Summer this year Howard had the opportunity to donate some of his time spent with a local church who brought in "The Power Team." In the five days they were here they traveled to ten different public schools, two juvenile detention centers, and the Ft Sill Army base. Each evening they had an exhibition and message at the church open to the public.
Howard enjoyed his time with them getting to know the team members a little better and was impressed with their outreach to the children at the schools. All of the kids were invited to come to the church in the evening and bring their family.
Howard said, "My favorite testimony of the week was when a young girl who had seen the team at school, begged her mother to bring her to the church that evening. During the service that night the girl and her mother both joined the alter call and accepted Jesus Christ as their Savior."

"How awesome is that!"
One of the kids' favorites was when the team would make cans
of pop (soda) explode by sqeezing them in their bare hands.
Click here to see a little promo video Howard made for the church
---
Seasons Change: (Food for thought)
Do you find it interesting how the Lord created the seasons of change? In the natural we have Winter, Spring, Summer, and Fall. We accept those seasons every year like clockwork, sometimes the elements themselves confirm the season that we are in. For instance when it is really hot we know for sure it is summer. Lots of snow it really is winter, etc. Sometimes the elements don't confirm the season we are in (like that warm sunny day at the end of December), we recognize the elements are not showing the season's true colors, but we still know we are in that season.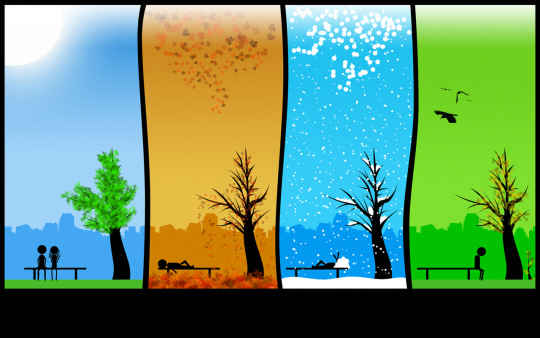 Do you find it interesting as well that we need reminded that in the Spiritual World there are seasons of change as well? Don't you find that as mere men and women we tend to rebel against these seasons of change? Have you ever found yourself in a certain season that you liked and just want to camp there? Have you ever forgotten that you are always to be going forward in your spiritual walk? And just like time never stands still for us so we can linger a little longer so it is for us in the spiritual seasons of our lives, they are forever going on to the next.

The last few years I have studied Biblical times and seasons for my personal study. As I studied the Jewish or Biblical calendar I found that months had such interesting meanings. Not to mention how the years had descriptive meanings of what the year would be like. I also find it interesting that the Jewish people understood the biblical times and seasons and accepted how the Lord ordered certain seasons for certain things.

Do you think we as Christian people ignore times and seasons? Do you think we get stuck in the last thing God spoke to us that we liked? Do you think we so desire to please Him that we think it can only be done a certain way? Do you find it interesting when all of the sudden you get a thought like maybe God is asking me to go a different way, try a different approach, look for the new season of change and move with it. Not that the last season was bad or unproductive but it was last season and this is a new season.

One thing I know and I believe you do as well is that no matter what season it is, our God is a Covenant Keeping God. He does not break covenant with His people. No matter what season we are in He is always looking for an opportunity to draw His people to Him. He always desires to use each and every season of our lives to spur us on in Him, to work things for our spiritual good. And just like the seasons in the natural, sometimes the elements just don't seem to express the true colors of the season. We have the Word of God that clearly spells it all out for us and we can know without a doubt no matter what season it is, we are His people and we are in Covenant with a Covenant Keeping God.
---
Plain Sight
Plain sight is the name of the Bible Discovery program Howard and I are working on to put on the web. Howard has had a vision for years and now is the time for it to begin. We are working on preparing the introduction and first segments that we can place on the web.

It was exciting as we sat in the studio and prayed and talked about what was the purpose of this time and what it should be called. Many purposes came to mind, encouragement, harvest of souls, resource for those who are unable to travel to church or those who have no desire at this time to attend church, to spur others on to seek Him, to discover the hidden treasures in God's Word, to discover truth. As all these purposes came to mind and eventually we believe the Lord gave us the name, "Plain Sight".

It will be a Bi-weekly 15 minute time of discovery with hopes to encourage others by finding the truths and treasures that are hidden in plain sight. We will also have a follow up Q&A on the Internet at a place called Google hang outs.

We are really excited to see how the Lord uses this time for His glory. We would appreciate your prayers as we take the steps into this new endeavor.

---
Encouraging Words from God
Howard and I received several cards in the mail over the past month. Thank you cards signed God. I know God used one of you to send those cards, but I know He directed you by His Spirit to encourage us. Thank you.

God speaks to us in so many ways and I would like you to hear what He said to us in these cards, to proclaim how much He cares about us and I know because He cares for us I know He cares for you as well.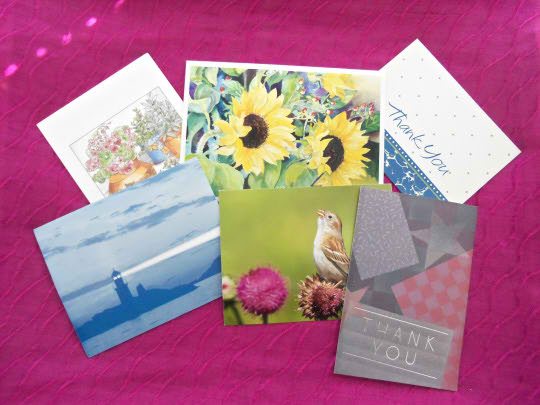 Sunflower card: "I have chosen to be faithful; I have determined to live by your commandments. Psalms 115:30
Thank you for being faithful Love and blessings, God
(Italics= signature)
Lighthouse Card: "And those who are Peacemakers will plant seeds of Peace and reap a Harvest of righteousness"
Thank you for being peacemaker. Love and blessings God
Pots with flowers card: "Beloved, I pray that you may prosper in all things and be in health, just as your soul prospers 3 John2
Livelong and prosper, Love GodMay the force (of God) be with you.
Thank You card: "You shall serve the Lord your God and He will bless your bread and your water" Exodus 23:25
Thank you for serving the Lord. Love God
Thank you Card: As a result of your ministry, they will give glory to God. For your generosity to them and to all believers will prove that you are obedient to the Good News of Christ" 2 Corinthians 9:13
A note especially for you to say "thank you" for the ministry. Love God
Bird singing on top a flower: "as pressure and stress bear down on me, I find joy in your commands" Psalms 119:143
Thank you for finding the joy. Blessings God
As I said earlier God is always spurring us on. How encouraging to have God Almighty thank you for service. I love how He uses the body of Christ to encourage one another. I pray these cards have encouraged you as much as they encourage us.
---
On a personal note
We pray for all of you, your children, and grandchildren, who have started a new school year, that all of you have been able to settle in. As intercessors we continue to lift up the schools across the nations for the Lord's continued intervention to expose any plans of the enemy and keeping our children safe.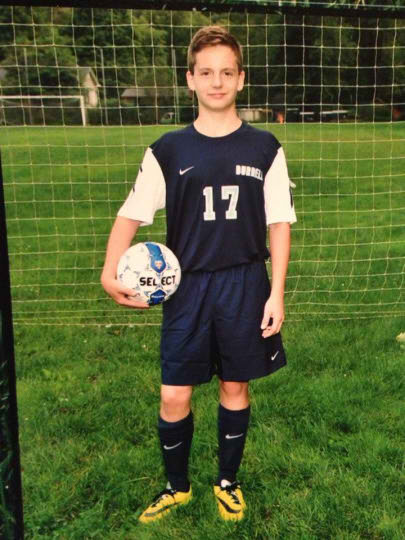 Our Grandson, Tyler, entered his sophomore year of school this year. His passion is soccer! He loves it! We are so blessed to know the Lord watches over him and he is growing up to into a fine young man.
---
Paul, a servant of God and an apostle of Jesus Christ for the faith of God's elect and the knowledge of the truth that leads to godliness-- a faith and knowledge resting on the hope of eternal life, which God, who does not lie, promised before the beginning of time, and at his appointed season he brought his word to light through the preaching entrusted to me by the command of God our Savior,
Titus 1:1-3 (NIV)
---
Support Agape Lane Ministry through Good Search
We have a new way for you to help support our ministry every day just by searching and shopping online or dining out at your favorite restaurants. We've registered Agape Lane Ministry with GoodSearch.com, a company that helps non-profits like ours raise funds through the everyday actions of our supporters. Every time you use a Good Search service, they donate to the non-profit you've designated.
You can start using it now. Just go to www.goodsearch.com and click on the link in small letters under the search text bar that says "Choose your cause" That will open a small search window where you will type in "Agape Lane Ministry" You will be transported to another window where you can register as a supporter of our ministry/cause. Then anytime you use Good Search they will donate to our ministry.
We'd like to begin building our presence on GoodSearch.com. Please join our community on GoodSearch.com and help us raise money for our mission. Get started by clicking the
"Become a Supporter" button on our profile page here: http://www.goodsearch.com/nonprofit/agape-lane-ministry.aspx
Please join us and invite a friend.
And NOW through Amazon Smile:
Just wanted to let you know there is another easy way that you can support Agape Lane ministry just doing the things you normally do. When you make purchases at Amazon through the Amazon Smile project. There is no extra charge to you but Amazon will donate ½ % of your purchase price to our ministry. Just click on the link below to register us as the ministry you want to support.
http://smile.amazon.com/ch/43-1957219
You can also just go to the Amazon Smile website at http://smile.amazon.com then in the search box under the "Select a Charity" area type "Agape Lane Ministry" into the search box and click the search button, then choose our ministry in Lawton, Oklahoma as your charity. That's all there is to it. As long as your computer is set up to accept cookies every time you go to Amazon Smile it will automatically apply the donation to our account. If your computer doesn't except cookies then you will need to enter the information each time you shop.
Thanks so much,
Howard & Charlyne
---
Lean on, trust in, and be confident in the Lord with all your heart and mind
and do not rely on your own insight or understanding. Proverbs 3:5