Newsletter 3rd QTR 2015
---
Wiconi Family Camp & Richard Twiss Memorial Powwow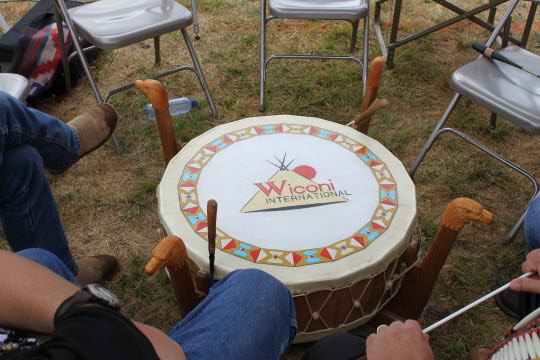 July had Summer in full swing and so were we. Just a few weeks after our trip to Lake Junaluska for the Sing to the Mountains conference we were headed to Turner, OR for the Wiconi Family Camp & Richard Twiss Memorial Powwow. What an awesome time that was!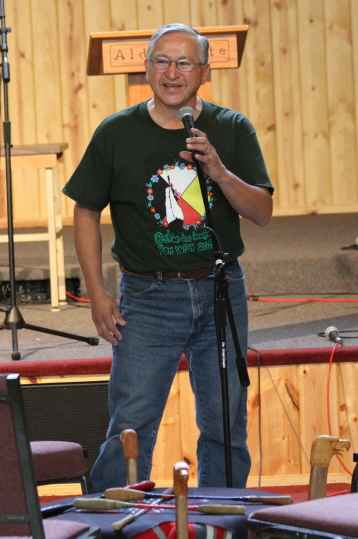 Casey Church, Wiconi's new director, welcomed everyone and gave us all a look into the vision that Wiconi's founder, the late Dr. Richard Twiss, had not only for Family Camp but also the worldwide ministry of Wiconi International.

"I had a dream," stated Casey. "This was in January 2015. I had just been asked by the Board to become the director of Wiconi. In my dream I was sitting at a picnic table at the Wiconi Family Camp and talking with Richard. And in his way-the way we knew him-he gave me his full attention, as if I were the only one in the world. I had a question to ask him, 'How can I honor your legacy? You are no longer with us and I have been given the responsibility to carry on the ministry of Wiconi International.'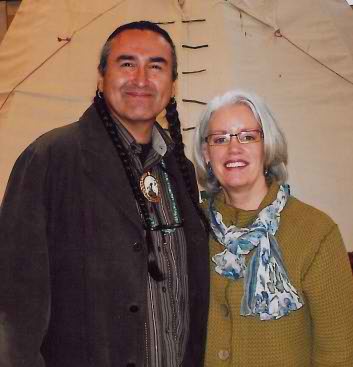 In my dream, Richard turned to me, straight on, and looked me in the eye and said, 'Case, this life is a journey and this ministry has been a journey. I want you to remember a couple of things: enjoy this ride the Lord has given us with the Wiconi ministry; keep your family close because ministry can take so much of your time; and one more thing, make sure to have some fun along the way.'"

With that, Casey kicked off our 11th annual "Living Waters Family Camp" and fun is what we had.

The camp theme this year was about preventing suicide, it was presented through short talks, video, and small interactive groups. While suicide is a very sad reality in our Native American communities, we also learned that in the midst of pain and incredible loss, there is a sense of hope that we can have and offer to those who are either contemplating suicide or have experienced the loss of loved ones through this tragedy.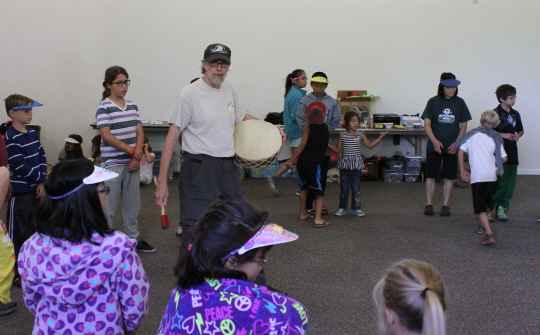 Campers experienced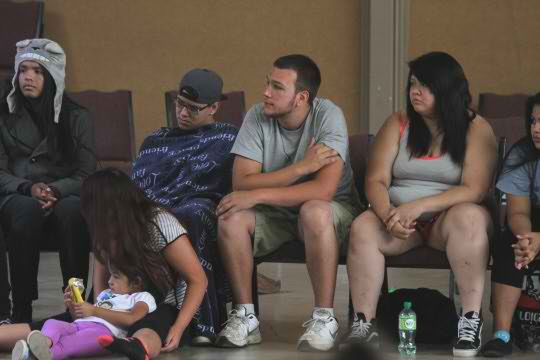 fun and laughter through many different classes and activities including storytelling and dance. The Youth had special classes and activity times designed specifically for them. And the children too were ministered to specifically by an Asian church group from Seattle, WA that put together a VBS style program for them. The children also had special guests who taught through drumming and storytelling.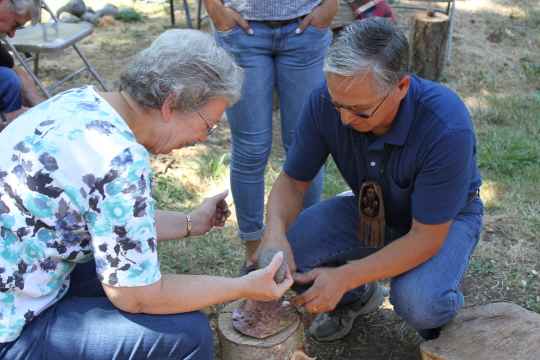 On Friday afternoon, there were crafts-making traditional Potawatomi copper bowls, and loom beading-as well as great activities like rock wall climbing, a wet 'n' wild slip and slide, and, of course, Family Camp would not be complete without the famous "tubing down the creek"! In the evening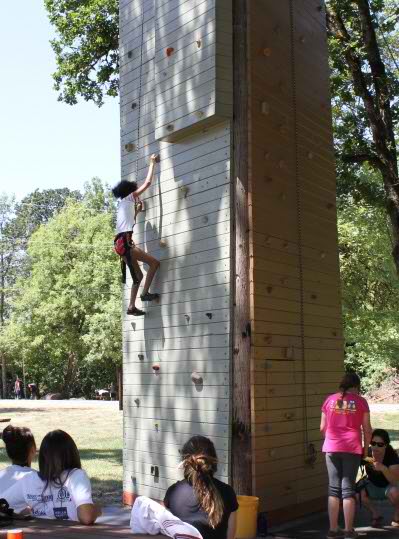 everyone enjoyed our annual "Native America's Got Talent" show.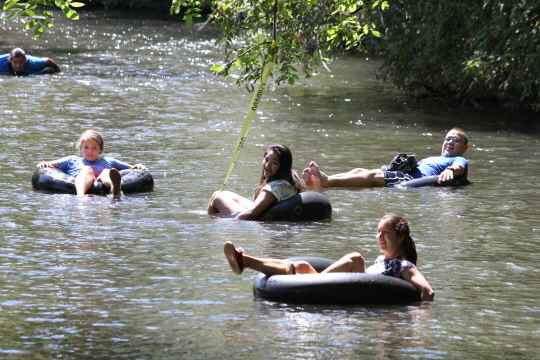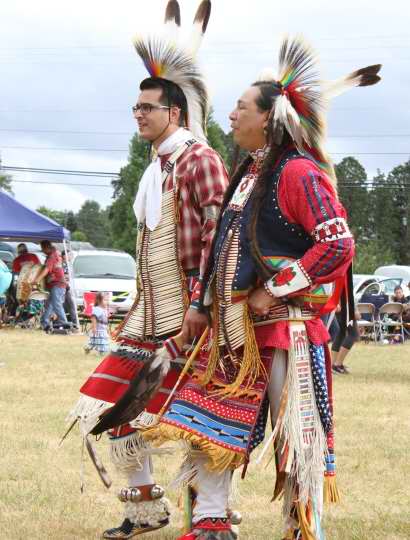 Saturday was the outreach to the community-the 2nd annual Richard Twiss Memorial Powwow. This year we had around 600 people attend. Everyone enjoyed dancing and visiting. There were times of intercessory prayer and for the first time I (Howard) got to participate in a prayer circle at a powwow. What an awesome experience that was.

It has become a tradition to top off the powwow with a delicious South Pacific dinner prepared and served to everyone by our Polynesian friends who come every year to bless us in this way. It was well worth waiting in the long lines! My mouth is watering just thinking about it…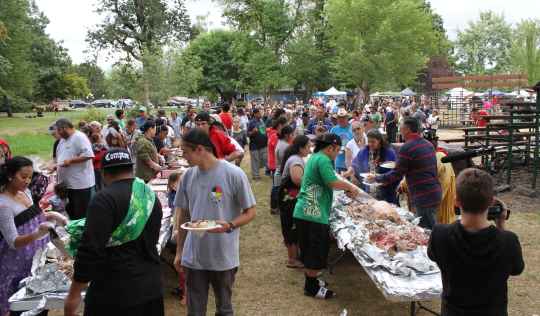 We were especially blessed this year to have our grandson, Tyler, join us at camp. He came to be my "Right Hand Man" and help me with the camera work, both video and photo. He helped me lug all the equipment around, set it up, and then run the cameras. He was a huge help to me and we really liked having him with us. God is good!

Our good friend and editor of Indian Life Magazine, Jim Utley, explains Wiconi Family camp this way: Wiconi's Family Camp is kind of like a living laboratory where Native and non-Native people come and experience in an in-depth way the freedom we have in Christ to create new approaches to ministry models -- ministries that are not restricted by the Native traditionalist or the strict denominational traditions.

"The ministry of the Wiconi family camp is a blend of the good aspects of our Native American culture and the rich heritage we have in our Christian faith," according to Casey Church. It's "combined with freedom to create anew a ministry approach that can reach those Native Americans who do not have a saving relationship with Jesus Christ."
Check out this short video report:
---
Playing Catch Up
After such a busy Spring and Summer schedule we have spent most of August and September trying to catch up with everything (office work, the mundane ministry tasks, and local ministry efforts). Not to mention we have hours of video footage and photographs that now need to be reviewed, organized, and put to use.
The Native ministry organizations that we filmed events for would like to have an assortment of reports and promotional productions completed to use for further evaluation and promotion of these ministry events. Most people don't realize it but it is estimated that for every one hour of video footage shot there will be three to six hours spent editing it. I guess I'll have something to do from now until early Spring. LOL

We have also been trying to help out a couple local ministries, the Pregnancy Support Center of Caddo County and Dayspring Community Church Mission Department. We have been helping the PSC develop and build a website that they can use to promote their ministry and provide on-line resources for young mothers and fathers. Caddo County has very high Native American population. We hope to have it up and running by the end of the year.

DSC church is not specifically a Native American church but it is hard to have a church in Oklahoma without having some Natives in it. Dayspring has a real vision for missions and a very active mission department. We have been helping them produce short videos that promote their mission efforts and the idea of missions in the kingdom of God. The mission director tells me that our videos have been very successful in raising the awareness of their mission efforts and the mission department with both the congregation and with their followers on the web. Also they have seen a steady up-tick in those getting involved in missions both financially and physically. What an encouragement that is to us being missionaries and all!
---
Support Agape Lane Ministry through Good Search
We have a new way for you to help support our ministry every day just by searching and shopping online or dining out at your favorite restaurants. We've registered Agape Lane Ministry with GoodSearch.com, a company that helps non-profits like ours raise funds through the everyday actions of our supporters. Every time you use a Good Search service, they donate to the non-profit you've designated.
You can start using it now. Just go to www.goodsearch.com and click on the link in small letters under the search text bar that says "Choose your cause" That will open a small search window where you will type in "Agape Lane Ministry" You will be transported to another window where you can register as a supporter of our ministry/cause. Then anytime you use Good Search they will donate to our ministry.
We'd like to begin building our presence on GoodSearch.com. Please join our community on GoodSearch.com and help us raise money for our mission. Get started by clicking the
"Become a Supporter" button on our profile page here: http://www.goodsearch.com/nonprofit/agape-lane-ministry.aspx
Please join us and invite a friend.
And NOW through Amazon Smile:
Just wanted to let you know there is another easy way that you can support Agape Lane ministry just doing the things you normally do. When you make purchases at Amazon through the Amazon Smile project. There is no extra charge to you but Amazon will donate ½ % of your purchase price to our ministry. Just click on the link below to register us as the ministry you want to support.
http://smile.amazon.com/ch/43-1957219
You can also just go to the Amazon Smile website at http://smile.amazon.com then in the search box under the "Select a Charity" area type "Agape Lane Ministry" into the search box and click the search button, then choose our ministry in Lawton, Oklahoma as your charity. That's all there is to it. As long as your computer is set up to accept cookies every time you go to Amazon Smile it will automatically apply the donation to our account. If your computer doesn't except cookies then you will need to enter the information each time you shop.
Thanks so much,
Howard & Charlyne
---
Lean on, trust in, and be confident in the Lord with all your heart and mind
and do not rely on your own insight or understanding. Proverbs 3:5